The main argument against political interest, which is often mentioned by young people, is that politics is not tangible for them.
Empty phrases and the failure to keep election promises contribute to young people's lack of political commitment – and therefore they're distancing themselves from it.
Introducing Die PARTEI and it's federal chairman Martin Sonneborn. In 2014, Sonneborn has been elected as one of 96 German Members of the European Parliament (referred to as MEP).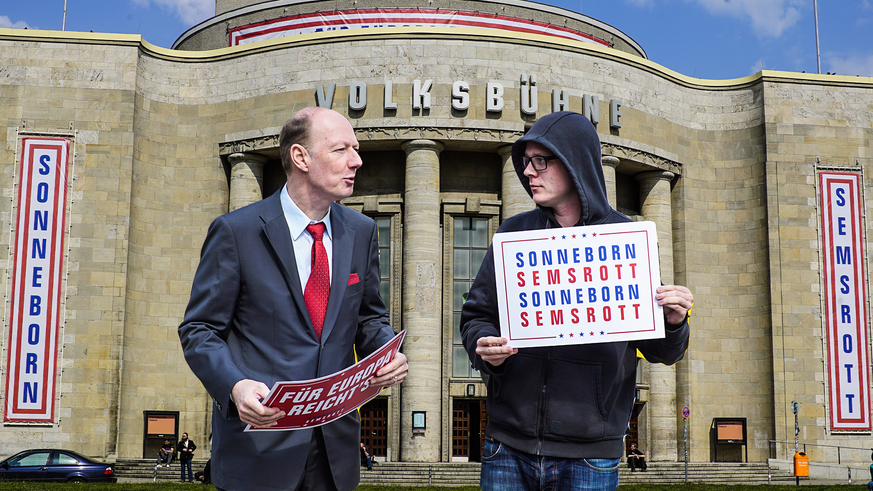 Sonneborn is best-known for his work as editor-in-chief of Titanic, Germany's biggest satire magazine. Under his leadership, Titanic has been involved in the crucial process of voting for the rights to host the 2006 FIFA World Cup. Sonneborn sent a fax to all officials entitled to vote, promising a gift basket with " cuckoo clocks and Black Forest ham", should the officials decide in favor of Germany. The vote was won with 12 to 11 votes and kicked off a big controversy, with people demanding that Sonneborn should be brought to justice.
The party was founded in 2004 by the editorial staff of Titanic, after they realized that all the existing parties were "unelectable" because of their "useless" election programs and politicians.
"Politics today expresses what voters want to hear, and we will do so. After all, I think it would be better if we got the votes than any right-wing radicals."
Sonneborn and his party are "open populists" and say "what the people want them to say". He calls his party a "turbo-party" which is "able to adapt to the needs and fears of his voters faster than anybody else". The election program includes demands for a reduction of manager salaries "to thirty-five thousand times the salary of workers" and the rebuilding of the Berlin Wall, "as 25-30% of Germans can identify with this idea".
All of these expressions are of course an imitation of the populist battle cries of the "new right", whose popularity rises not only on a supranational level.
Sonneborn's work in the European Parliament can be described as that of an "active spectator" who occasionally holds satirical speeches in front of a half-empty plenum, as he isn't a member of a parliamentary group, which is why he has virtually no speaking time.
His controversial speeches in the EP can be found here.
Sonneborn can be seen as a troublemaker in Parliament. A self-promoter who spends his time in Brussels at the expense of the citizens. But if you take a closer look, you notice what his task in the European Parliament really is.
"It wasn't clear at first if this would work. Now I can say: yes, it works. On different levels. We get a lot of reactions, young people politicize themselves with funny posters and videos."
Sonneborn informs and polarizes. When being asked about his achievements as MEP, and as a politician in general by rp-online, he says: "It wasn't clear at first if this would work. Now I can say: yes, it works. On different levels. We get a lot of reactions, young people politicize themselves with funny posters and videos. I think it's enormously important that as a teenager in Cottbus, Wittenberg or Dortmund, you get a counteroffer from Die PARTEI to the right-wing structures that take over there. In times when there is no money for youth centers and culture, we offer people something. Many develop an interest in politics. And even for the European Parliament."
Besides that, Sonneborn gives first-hand information about what 751 MEPs are voting for on a daily basis. "In the next EU budget, for the first time, more money will be earmarked for border security and arms development and storage in North Africa than for development aid. This is despite the fact that the Lisbon Treaty prohibits money being invested in military projects. (…) Why don't we put the two percent of the budget we are aiming for into the fight against poverty and youth unemployment?"
Despite attempts to stop Sonneborn and his party from re-entering the European Parliament, it seems as if the Die PARTEI leader will retain his status as MEP after the European elections in May. With surveys saying that Die PARTEI could obtain up to 2% of the votes, Sonneborn could even be accompanied by his running mate Nico Semsrott, who is – what else could he be – a satirist.